Fido's
Regular price
Sale price
$11.95 USD
Unit price
per
Sale
Sold out
This collagen-rich bone broth for dogs is a nutritious combination of gently simmered grass-fed beef bones and organic herbs that support your dog's digestion from a variety of angles. 
Bone broth is a natural source of collagen, amino acids, glucosamine, hyaluronic acid, chondroitin sulfate, minerals, and electrolytes.
Our canine herbalist-formulated herbal blend helps to regulate digestion and stools.
Ingredients: Grass-Fed Beef Bone Broth, Calendula*, Chamomile*, Marshmallow Root*, Blackberry Leaf*, Burdock Root*, Ginger Root* (*Organic)
Feeding Guide: Shake well before use. Feed up to a 1/4 cup of broth per 25 lbs of body weight per day. Serve alone or with your dog's meal. Refrigerate for up to 7 days after opening. 
For the best possible savings, choose an 8-pack and subscribe!
Share
View full details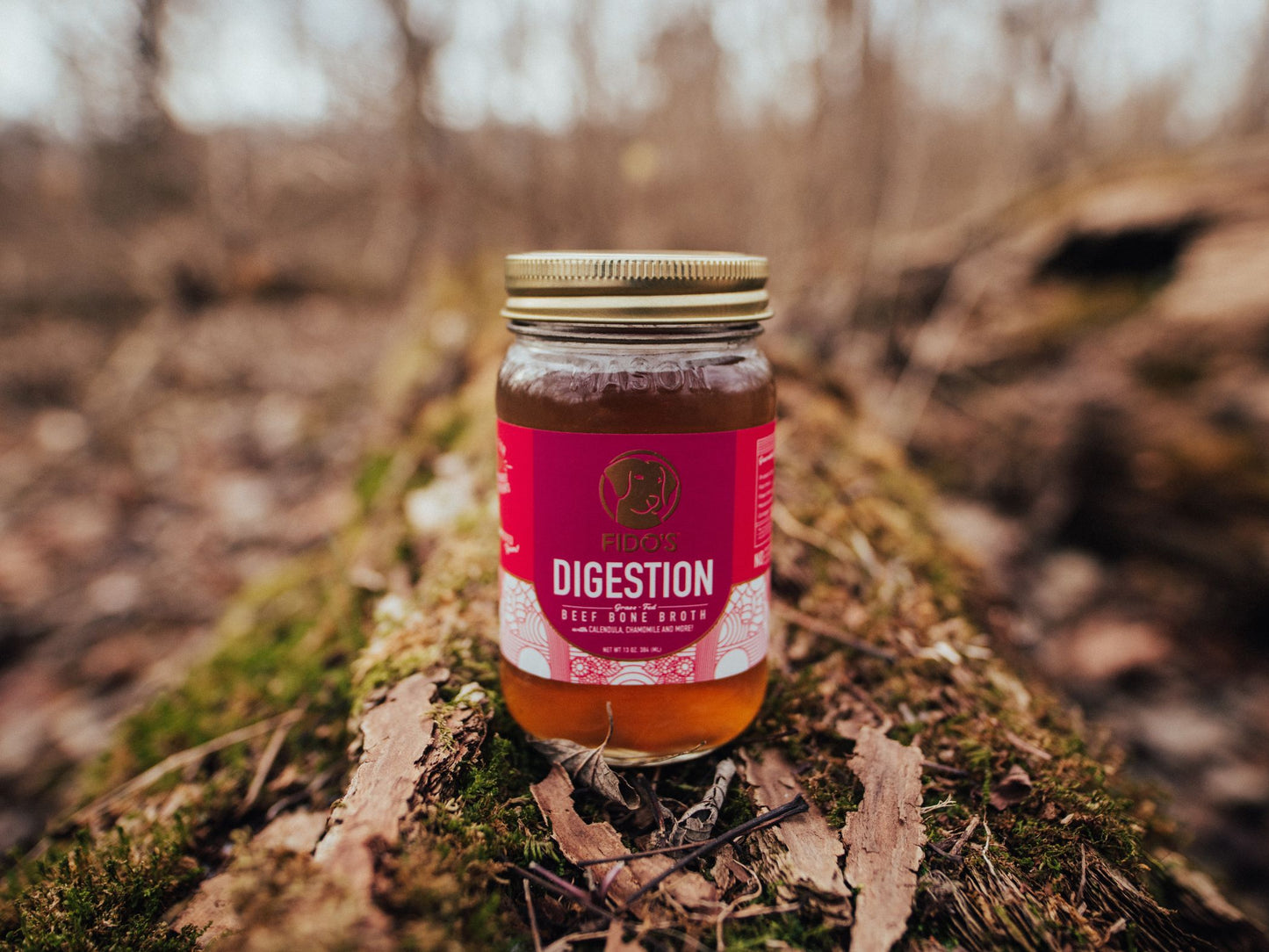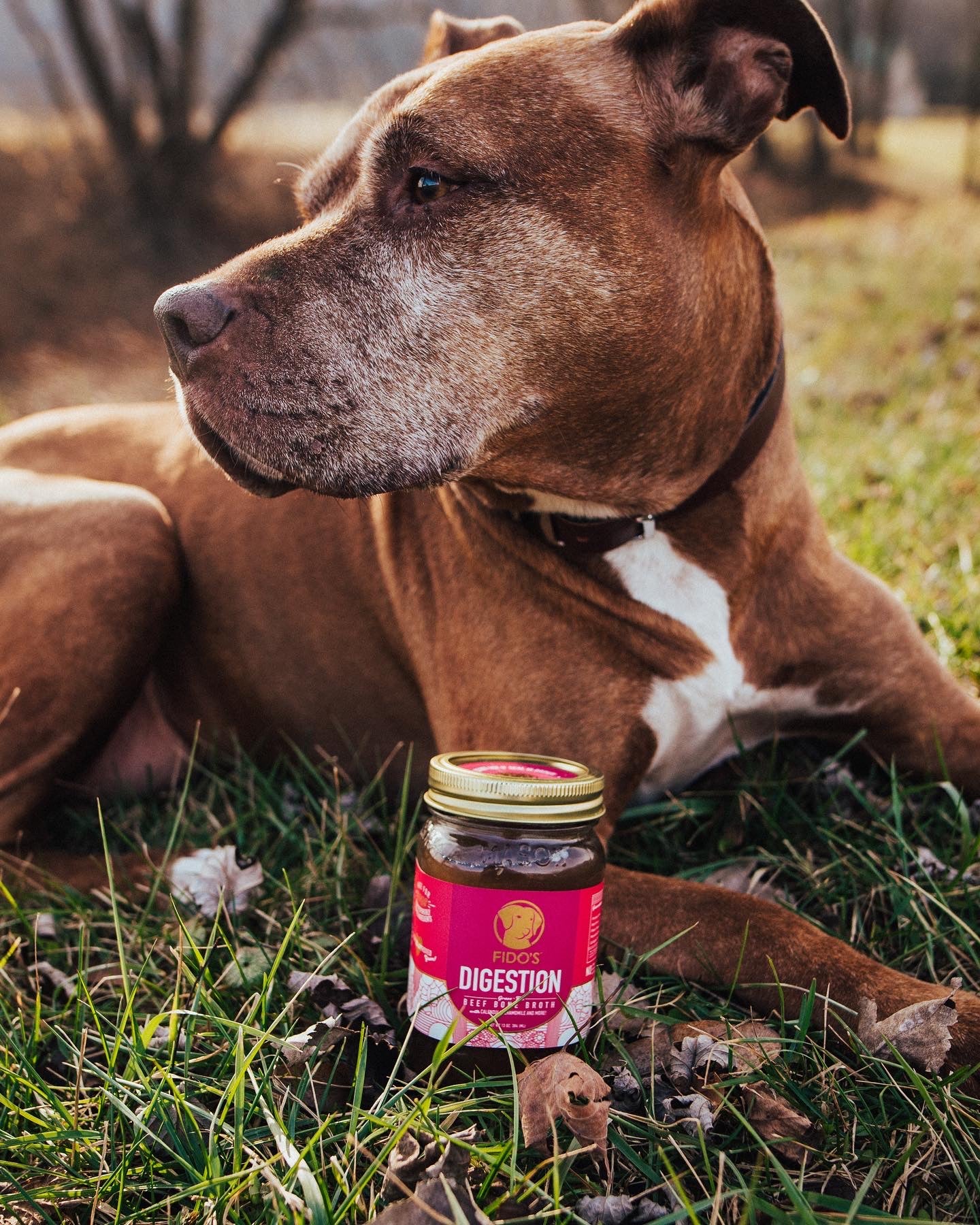 Your questions answered!
What are the benefits of bone broth?

Bone broth provides easily absorbable amino acids, collagen, glycosaminoglycans, minerals, and electrolytes. These compounds support various organs and bodily processes, and maintain healthy tissue, cartilage, skin, and joints.
Why use herbs?

Herbs have been used for thousands of years to support the health of both humans and animals. They contain biologically active compounds, often referred to as phytochemicals, that positively affect dog physiology. Our herbal ingredients are backed by a growing body of modern scientific research that confirms the traditional uses of the plants.
How should I serve the bone broth to my dog(s)?

There are many ways to serve Fido's bone broths to your dog! They can be served with a meal or on their own. If serving with or topping a meal, we suggest gently warming the bone broth (not too hot) in a small saucepan. The bone broth can also be frozen in an ice cube tray and served as treats.
How many servings?

Liquid Broth:

If the full serving (1/4 cup of broth per 25 lbs of body weight per day) is given daily:

A 25 lb dog will use one jar in 8 days
A 50 lb dog will use one jar in 4 days

Dehydrated:

If the full serving (1/4 cup of broth per 25 lbs of body weight per day) is given daily:

A 25 lb dog will use one container in 60 days
A 50 lb dog will use one container in 30 days

Note, that you do not have to feed your dog a full serving daily, the broth can be given as treats or lightly sprinkled on top of food.
Pricing Policy:

Please note that our prices are subject to change without prior notice. While we strive to maintain consistent pricing, factors such as market conditions and supplier costs may necessitate adjustments. We recommend checking our website regularly for the most up-to-date pricing information.
Picky Eater Approved
Our dog has gotten picky about her kibble, even with a warm water soak. Adding this bone broth has her gobbling up her breakfast & dinner! It's a fragrant food-topper that she loves. We've even noticed some of her environmental allergy patches on her paws & belly are clearing up since introducing this collagen-rich anti-inflammatory broth!
Digestive Beef Bone Broth Works!
Our dog Sydney has had many years of digestive issues. I tried Fido's Digestive Beef Bone Broth in hopes that it would bring her some relief. It worked immediately! I never write reviews but this is the real deal!
Next best thing to homemade
I'm confident giving my boy this bone broth. Next best thing to homemade! I'm happy with the herbs that were simmered with the grass fed beef bones for nourishing my boys stomach. He has stomach issues with his KD and I'm very satisfied. Wish I lived closer for different delivery options.
Fabulous Broths!
My seniors are loving the bone broth addition to their meals. I've already noticed a positive change with their tummies and mobility.
My dog LOVED it!!
I just want to say that my dog (a Labrador) absolutely loved Fido's Bone Broth! His reaction to seeing the broth being poured on his food was priceless! He would jump up and down in excitement, and as a dog mom, it made me so happy knowing he enjoyed it! I will definitely be a customer for life!